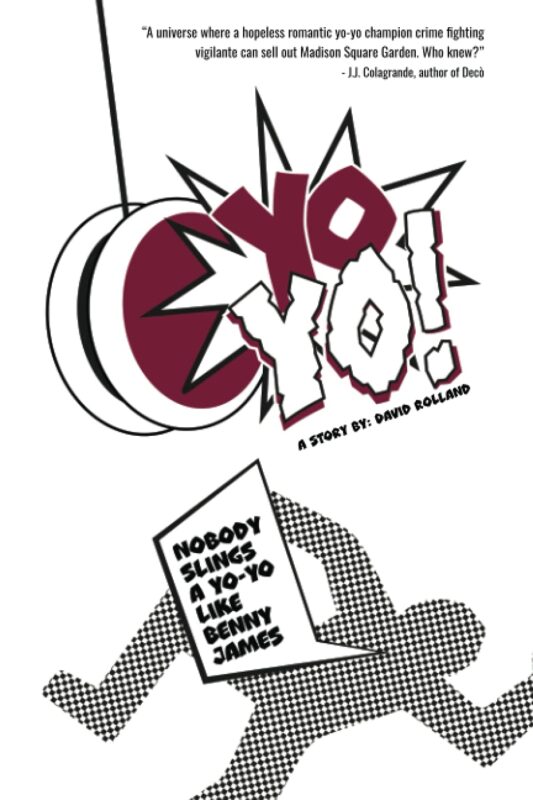 Nobody slings a yo-yo like Benny James. Behind the back, through the air, between his legs, suspended at a hundred and twenty-degree angle, he's sold out arenas nationwide wowing and kapowing audiences with his yo-yo. But still there's a hole in Benny's heart. He just can't get over the girl who got away. And no amount of fame, fortune or after-hours masked crime-fighting will ease that pain. But as Benny navigates his weird world he learns life really can be like a yo-yo. Sometimes it's up, sometimes it's down, and sometimes it smacks you right in the face.
"A universe where a hopeless romantic yo-yo champion crime fighting vigilante can sell out Madison Square Garden. Who knew?" J.J. Colagrande, author of Decò 2.0
More info →
Just Johnson  Populated by Miami's fits and misfits, Just Johnson: The London Delivery traces the exploits of our hero -- Johnson -- a driver and delivery man for Stephen Teitelbaum (aka The Fat Man) the 490 pound criminal mastermind who manages the remains of Meyer Lansky's Miami Beach operation. Johnson's live-in, bi-sexual and hypersexual girlfriend, Alexandra Cohen (aka Al), is a marketing consultant whose employment takes her to London. She asks Johnson to join her. To afford the trip Johnson arranges a delivery for one of The Fat Man's many friends.
From London to Miami and back, Just Johnson: The London Delivery is a rumbling, unstoppable freight train of a tale. Although bouncing between the 80s and mid 90s of Miami, this novel confirms that some things will never change in this city. Miami is weird, weird, weird – and that's why we love it so.
More info →