Case Files: The Trials of Hillside Manor Courthouse is a new immersive theater production set to premiere this December in West Palm Beach. Theater-goers, according to promotional materials, will be "challenged to participate in 8 different twisted courtroom stories…in a site specific 1950s-era courtroom…in 1950s era attire…"
Case Files feels very Americana in its recipe: true crime right off the set of Happy Days or Pulp Fiction. Mix it with a twist of trippy David Lynch "Disneyland."  Then dip it in modern noir with a large Wes Anderson-like ensemble.
This sounds awesome enough but there is another twist.
A very unique, oddly modern twist.
The 1950s era production features a troupe of over 45 young women. All ages 10 to 18, all members of West Palm dance studios. This is your neighbor's daughter's dance class.
In other words, young women, in dance, are not participating in a stressful competitive recital, like classical ballet. Instead, they are coming together in a united immersive experience. What a wonderful new concept: to shatter the barriers of the competitive dance world by uniting individuals under one spotlight.
Case Files is literally the opposite of Black Swan.
Very 2022.
Case Files Looks Awesome
You should have seen the troupe of young ladies, fully in character and costume, form a flash mob on the streets of Clematis Street.  Announcing the production's tickets going on sale. It was a balmy Saturday night, Labor Day weekend, when all of a sudden a group of 30 plus in costume took over the closed-off street and started dancing. Holding protest signs with promotional QR codes they broke off into mini groups, staying in costume. The whole thing was cool and weird and fun.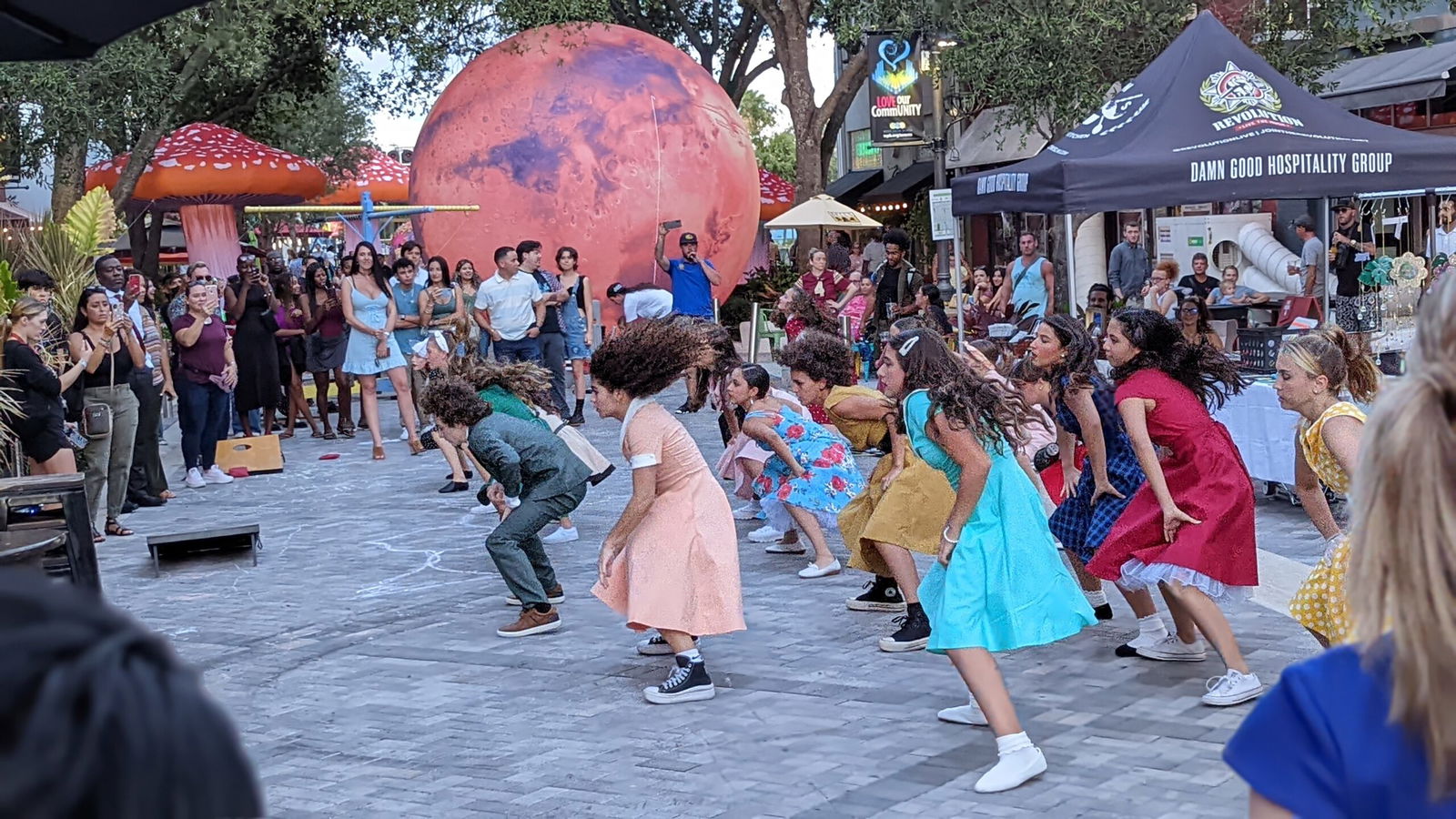 We don't write about youth dance culture often but this scene was too irresistible.
Tickets for Case Files: The Trials of Hillside Manor Courthouse, by Loud Live Productions, recently went on sale and can be purchased here.