I love Cesar Lavin. He is my brother. Those who knew him understand exactly what I'm saying, without reservation and with all the warmth and heartfelt mirth we can muster. It is impossible to say all there is about him and what I carry in my heart in a blog submission. It would require at least a slim memoir. But I lovingly submit a glimpse of who he was to me, what I feel and lived and cherish.
I'll begin with an early memory of Cesar. I was fourteen and had recently formed a band with my best friends. The band was Proffitt. We were just beginning to rehearse with New Romantic covers and a shitload of dreams. Jorge G., Mark and I labored over perfection, crafting replicas of our favorite songs through Roland Juno 106 and Yamaha DX7 exploration and precision. It was a glorious time. We were newbies, starry eyed with galactic ambition. We lived and breathed for this, and there weren't enough hours in the day to contain our devotion, passion and determination. Cesar was a couple of years older and played with Hamerhed, an established band that enjoyed rock star status in the high school scene, a band we knew well by reputation and respected, and I clearly remember the first time we saw them play.
It was a cool evening at the Hialeah-Miami Lakes carnival. The rides, games and food stands filled the P.E. fields, and the stage was already set, sound check completed, no one on stage save for the sound man and a few hands. Jorge G. and I walked around in our humble but excited way, sheepishly glancing at the beautiful girls milling around the stage, their pretty faces and tight-jeaned bodies giggling and spinning with cotton candy fervor.
A while later, the lights came on and the band took the stage. There was cheering and applause in the electric air, and Hamerhed opened with The Kinks' "Destroyer". I couldn't take my eyes off Cesar. Right then, I wanted to be him. He was doing exactly what I aspired to and yearned for; I was awestruck. Jorge G. and I stood there, motionless, with longing and reverence in our hearts, the sound pummeling our chests, the colors and energy filling our eyes. We didn't move or say much for the rest of the set. We only looked at one another other from time to time, a smile confirming the exhilaration, an occasional nudge cementing our brotherhood and musical quest.
After the show, we walked up to the stage and I saw Cesar, that welcoming grin on his face, and we offered our best compliment: "Great set!" We didn't know what the hell else to say.
"Thanks, Bro," was his reply.
This is my earliest recollection of Cesar, a moment of inspiration and admiration that will live with me forever. For the next twenty years after Hamerhed, Cesar's musical journey was varied and impressive. He went on to play with United Snakes (in L.A.), 101 Damnations, The Bellfires, Cold Shake, The Young Ones, and, finally, Humbert.
In 1998, while Humbert was writing and recording our first album, most of us attended a Cheap Trick show at the Hard Rock in Bayside. It was a strange but uniquely exquisite experience. The band played on the floor, no riser, elevation or separation, and we were inches from their feet and faces. It was one of the most intimate and powerful shows I've ever seen. There were so many local music personalities there. This is where and when Cesar and I saw each other for the first time in over a decade. It was a reunion soaked in reminiscence, drinking and boisterous laughter. He was playing with The Young Ones at the time, and from then on, we'd see each other regularly at shows and other events.
I left Humbert in 2000 for several reasons, none of which had to do with my music or my brothers. We all decided that Cesar was the natural replacement. A year later I was back, hanging around like a lost soul, sorry I'd left in the first place, shaking my head at the futile life-exercise of abandoning a thing that keeps you alive. But Cesar now sat on the throne, and I respected this; I respected him. I was grateful just to be there—at rehearsals and shows and hangouts. I remained close for sustenance and support. During this period, Cesar and I bonded deeply. I think about that now. There was never a trace or instant of negative energy. Both of us were Humbert members and drummers, and Cesar's magnanimity and genuine altruism astounded me. He was always happy to see me, always eager to share the stage. That, in itself, tells the story of the man he was.
I began to travel with them, as I'd done previously with my brothers, in an Econoline van, The Shack's dusty, love-stained couch in its cargo bay. What happened on those trips, in that van and at those venues and friendly homes, well, it's what stays forever, the shared revelations, epiphanies and ludicrous escapades that only a handful will ever be privy to. There was the Back Booth in Orlando, a venue almost too good to be true, a place that felt like home even though I was only there a handful of times. Humbert opened for Superdrag at The Booth. I was recently separated and had just moved into a new apartment. I longed for the music, the revelry and camaraderie. I tagged along that weekend and sat in for a few songs on drums and vocals. What happened on stage that night—epic, magical. What transpired in the Green Room before and after our sets—the stuff of documentary and creature features. Superdrag's Jack Daniels stash was consumed with rapidity and deliberation, for starters. The rest is up here.
I also fell in love that weekend, but I didn't fully realize it until she visited Miami soon after. She even asked me to marry her after our first kiss, across the street from the Poorhouse. We actually walked hand in hand towards a church down the way, humming 'Question' by Old 97's. What if I'd said yes? Cesar was there for all of it. He always championed my quixotic notions, cradled my pain, and exhorted my mettle, especially when there was merely mortal coil. I watched him fall for the love of his life, too, not long after that. Our parallel journeys, weaving themselves like strands of DNA. It was the time in our lives when we were closest.
My favorite moments were spent at his house and my apartment, listening to records, watching Criterion Collection films, drinking Murphy's Stout, Liberty Ale or Bushmill's, talking about women, books, our weather-beaten hearts, and all the life and love they had given and taken from us. Conversations that floated deep into the night and well into the day, with surprising clarity and emotional resolution, despite the shocking sun and bleary-eyed consciousness of the morning after. Countless nights at the Poorhouse and Churchill's. Traveling, recording and playing shows together, sharing the kit and mic and tent or pullout couch, howling and shouting at it all, full-throated, like the night would never end and the day would be our last. Attending unforgettable shows, like Hot Hot Heat at Revolver, Wilco at the Carefree Theater and Superdrag, again, at Club Freeze—this time, Tony and Superdrag's John Davis getting yelled at by the rest of his band. They downed Maker's Mark in the van while the other members were getting their act together. The rest of the gang then headed to Athens, GA for The Strokes show. Another night for the books. Legendary fragments of a once-in-a-life Dionysian era. And, of course, Peace River. There will always be Peace River.
Cesar moved to Chicago some years later, and our contact and visits were limited. But yes, when we did see each other or speak, it was as if not a single day had passed.
The last time I saw Cesar was at DiPiazza, in Hialeah, on October 4, 2018. He was in town, and it was my belated birthday dinner. Most of my brothers were there: Fern, Tony, Mikey and Omar. I remember he was the last one to walk through the door, a shout of glee and a joke on his lips. We exploded with laughter as he made his way around the table, hugging us in turn, his warmth like balm, his brother-bond pouring over us, ever present and unbreakable. I will never forget that night. Cesar regaled us in his fashion, making us choke on our calamari with his irreverent humor and inveterate storytelling. It was a beautiful moment, the most intimate and joyful birthday and family reunion I can remember. After dinner, he wanted our night to continue, but the rest of us had to get back. I was trying to behave, and I reluctantly said goodbye with a long embrace. We talked about his latest first edition Bukowski as we made our way to our cars, and we all drove home separately.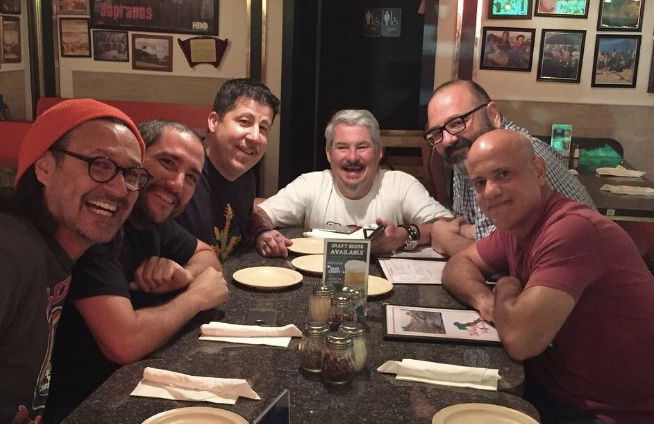 After that night, Cesar and I stayed in touch as best we could and endeavored to support each other. We were trying to stay clear, focused. We embarked on a song dialogue sporadically via text for almost a year. In the mornings, we'd send each other a tune for the day, something to keep us afloat, a little love to get us through. The last song I sent him was Wilco's "Either Way"—a song I've clung to for dear life over the years. He loved my selection and replied with Sloan's "Junior Panthers", one of my favorites. He wrote that he regretted missing HialeahFest that year, but that he'd try to make it for the holidays. I told him he'd be there in spirit and that I loved him. That was September 5, 2019, and the last time we communicated. Cesar passed a couple of weeks later.
I won't wax philosophical or sentimental about loss or death. Not too much. I will only say that one never really recovers from that kind of pain. Management and entropy are the only real coping mechanisms, the only truths. The former depends on the day, the latter is inevitable. I learned this when my father died in my arms. It was again confirmed when Cesar was suddenly gone. The only shiny lining: the good memory. To conjure face and voice and moment, to be moved by spirit—that's all there is.
Cesar's two best friends from childhood are still part of my life: Jorge H. and Hector. It was through Cesar that I met them, and Jorge H. is now a Humbert member. I'm so thankful and blessed. What a beautiful thing. Like Cesar before him, and the rest of us in turn, Jorge H. is now Humbert, in its emotional and creative fabric, at its heart-pumping and blazing core. Cesar smiles at this.
"I miss and love you, my brother."
 He chuckles and replies, "Alabado, mi hermano. Te quiero."
And we're all laughing again, his inexhaustible luminance lighting us towards the next day, the next hour, the next minute.