It immediately starts (as soon as I successfully find parking) at the entrance, the front door. Do I knock? Do I just walk in? Thing is this was a house and inside was supposedly an art exhibition. The curator had apparently kept the door unlocked the entire time treating it like a house party. Now before you stop reading and wonder why the hell you should care you should know this exhibition was in a suburb residential home and you should be warned it could've been your neighbor.
Saying the exhibition was basically a house party was an understatement. It was, but with more thought put into the food and the stuff on the walls. Typically for openings and most exhibitions you are presented with an open doorway or you have to make an appointment. But what to do with a home especially when the show is only up for a span of less than 24 hours? This is DOMESTIC.
DOMESTIC was an exhibition in a 1939 Art Deco Miami Home in the Silver Bluff area that introduced artists whose works meditate on themes alluding to personal space. Curated by Johann C. Muñoz, these meditations ranged from the literal to the metaphysical. Constantly asking the question "what makes a house a home?"
"For me, the word "domestic" conjured up an uncanny bitter-sweetness," explains Johann. "I would say that one of the empathies for the exhibition was to create a space that was intimate giving visitors a candid experience of the artwork. I feel that sometimes in the setting of a gallery or museum our body or psychology changes, we get a little stiff and plastic. Here, walking into a house, you are totally disarmed."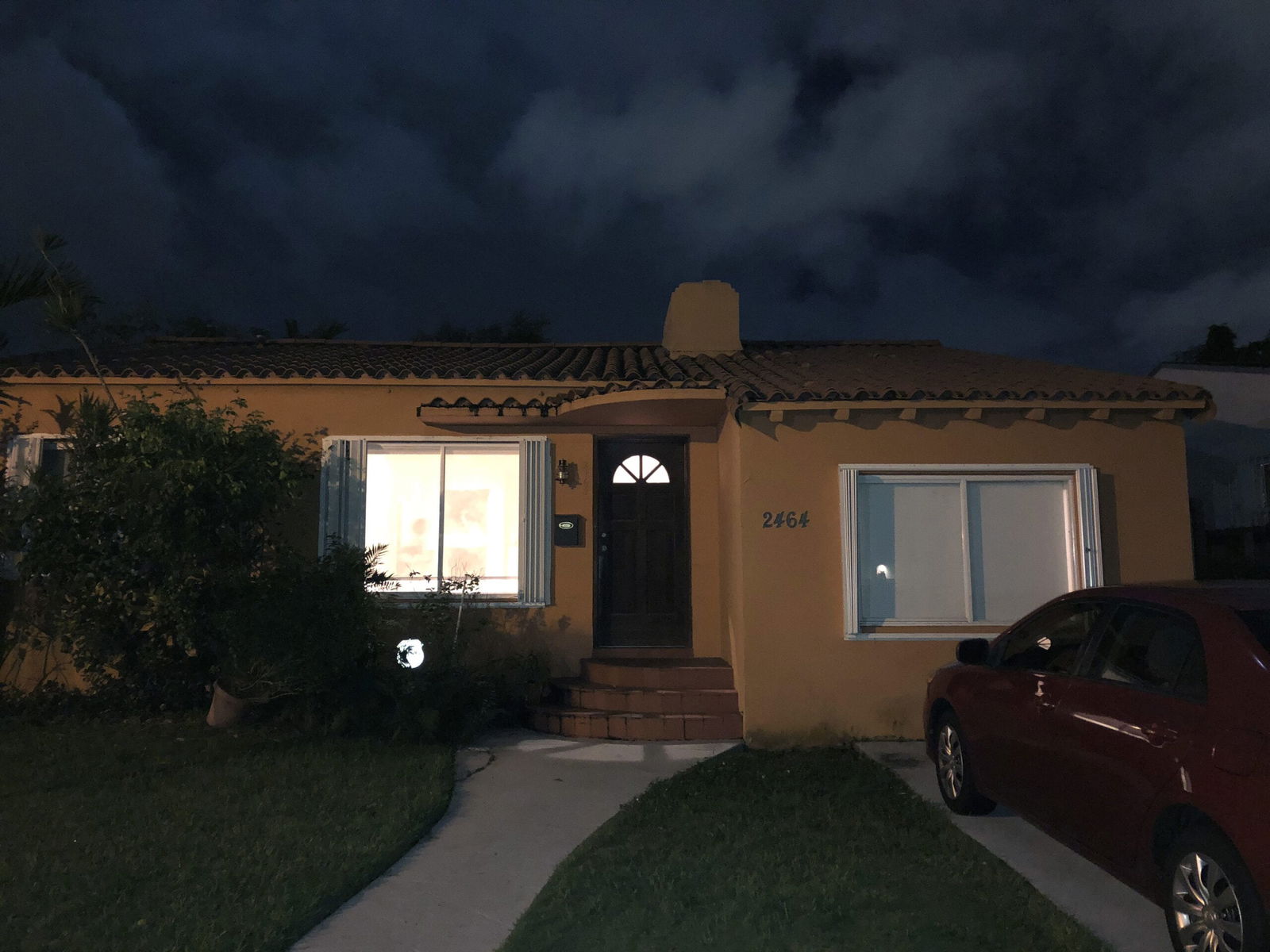 The opening was Friday, October 11 from 8–11 p.m. and the closing was the next day, Saturday October 12 from 11 a.m.–2 p.m. acting as a brunch. Johann invited people who would respect the space but there were also a lot of strangers that he didn't even know. He said, "Nobody got turned down. The event wasn't exclusive it just wasn't opened to the public it was more than just free food and art". The event was open to those who were curious enough to do the work to get to the space.
DOMESTIC Intimate and Creative Exhibit
Though Johann believes that there should be art spaces available and more accessible to the public according to him "The Miami audience is really lazy". He is arguing for a more symbiotic relationship between audience and institution to have this specific audience gain a deeper appreciation. He may be on to something because Miami is automatically superficial with it's gentrified neighborhoods selling designer clothes and designer ice cream to people who pay for designer bodies, so of course their means of finding art and culture never goes a step beyond clicking the "interested" button for Facebook events. Most of the time it ends up being the same circle of people going around in circles at these shows and sure it's part of our scene but it starts to feel a little intimidating to those who are not part of that circle.
Oh also there was no music. Have you ever been to a "house party" where you knew nobody but the food was still banging but also there was absolutely no music? Weird… Yeah I know. But for some reason it worked because that made people want to talk to each other to fill up the space with some kind of noise. All of a sudden you had to question and think about your body and space very differently. Gallery or museums spoon-feed you… but for this exhibition you had to pay attention.
At a gallery or museum artwork has to be placed in a certain way, at a certain height with that 60 inch standard which was created by someone who thought everyone would eventually be the same height. If we are being for real here we don't live with artwork that way so why should it be displayed that way.
Johann explains: "My mom and my sister-in-law are making food and that's like their gift, their art piece, their collaboration with all of us. That automatically disarms you because we aren't giving you wine and cheese all of a sudden, it is traditional Colombian food. The whole thing is that there is an aesthetic component to that and in a sense they are artists. The way she is presenting it the way that she is serving it and the way she is making eye contact and connecting with all these people."
Johann's mom (left) and sister-in-law (right).
The whole idea definitely adds to the theme of the exhibition, which is all about that homey vibe. It seems that the food and his family set the stage because if you think about it how can anyone properly experience art if you are not properly fed. The whole experience got me thinking: What is the right way to look at art beyond the white walls? Most of the work was small or decently sized for home décor with some works slightly hidden or just went right over your head. Literally. Every room was part of the exhibition. Right down to the bathroom. The artwork in the bathroom shower was by Chad Cunha titled Change is the way of nature. A personal favorite mainly because I got a kick out of someone asking me to politely leave to "use the space" of the artwork. This piece was about time but it let everyone wonder if it was done on purpose or if the soap slipped onto the floor and didn't turn off the showerhead properly. For context the work was basically the sound created from the single drops of water coming form the shower head that hit a white bar of soap (definitely had to be that white original Dove soap, I smelled it). This started to open up other people's perspectives on conceptual art in a tongue in cheek sort of way. The exchange for a disintegrated bar soap was a nice scent that washed over the bathroom no matter who used it.
Then in the kitchen there was this plate of fake clay chorizos called, wait for it, A Bunch of Chorizos "cooked" by Natalia Manrique and Mauricio González. The piece was intentionally placed in the kitchen to make you more aware of the aesthetics of the food. Obviously you cant eat it but it makes you think about what chorizos made of and then what about just where our food comes from in general.
That holds true for another piece that lived on the floor by Paul Shortt titled Open Doors, Open Borders, which was a little wooden doorstopper holding a door in one of the rooms. One side it says "Open Doors" and the other it says "Open Borders" but you have to really bend down and look at it closely to notice. Obviously that is in reference to our immigration crisis but that would be a whole new article. Anyway the point is you had to live in the space and get intimate with it because if you not then you're going to miss a lot of stuff.
"Open Doors, Open Borders" by Paul Shortt
When I asked why he was leaving this house he said, "Miami is a very transient city, things are always changing. I'm not from here, I'm Colombian so I think ultimately I have never felt at home here in Miami." Even though he has lived in Miami for 15 years he only lived in this house for 2 years. People move around and through Miami all the time but I don't think people are really paying attention. Wake up and look deeper into your hood, you may even find a random art show.
The participating artists included: Nathalie Alfonso, Dona Altemus, Susan Banks, Jorge Becerra, Thomas Bils, Giannina Brusatin, Maria Lina Bulaich, Chad Cunha, Carmen Ana Esquijarosa, Carlos Franco, Rocío Gauna, Mauricio González, Valeria Guillén, Natalia Manrique, Jon Millan, Johann C. Muñoz, Sebastian D. Muñoz, Juan Pablo Nuñez, Sergio Alejandro O'Day, Sabetty Heyaime, Lorelei Ramirez, Sofia del Rivero, Renata Sabina Rojo, Paul Shortt, Carol Todaro, Alejandro Valencia &Tom Virgin.