Tuesday morning around 8 a.m. a pretty large alligator was spotted in the water directly off of Margaret Pace Park in the Edgewater neighborhood of Miami.  This occurred around 2000 N. Bayshore Drive, perpendicular to the basketball courts, but out in the bay.
The park is heavily used by locals, who play sports, jog, walk dogs, push babies, picnic or just chill. That hour is the highest usage for dog walkers.
Dogs commonly swim off the mini-beaches of the park.
According to residents, as the Edgewater alligator lingered, animal services was called to handle the situation.
They removed the gator from Pace Park.
And that part of the park was closed off for like an hour.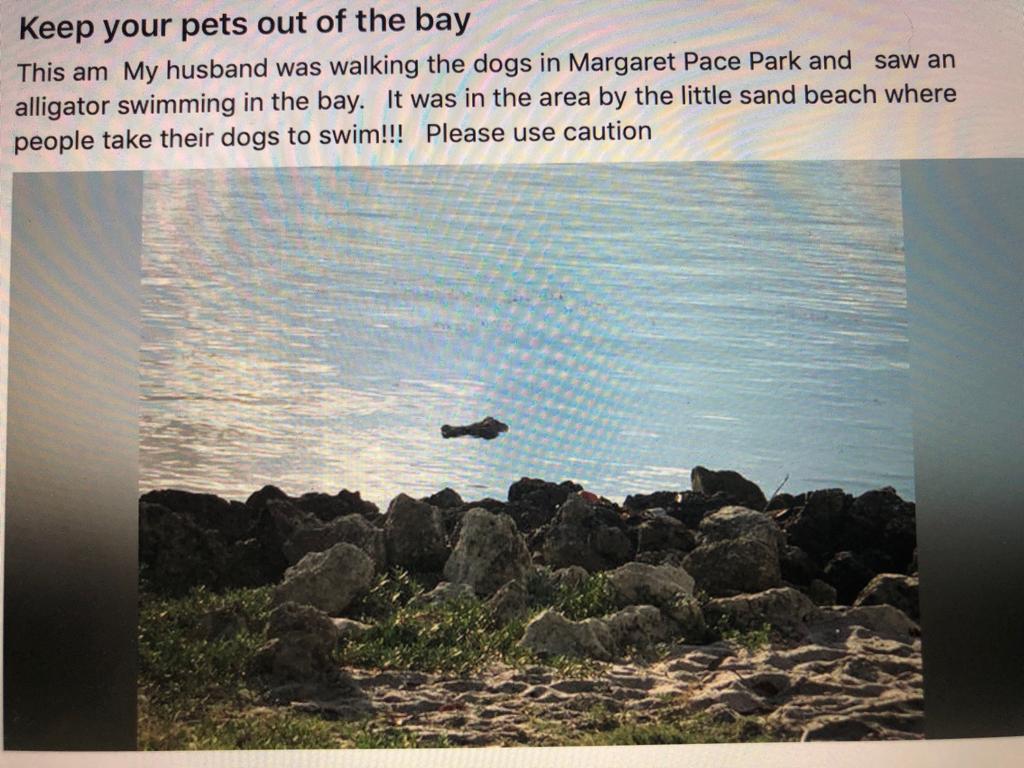 EDGEWATER ALLIGATOR
Alligators don't belong in salt water so this invasive species is a mystery. From the picture posted above the gator looked pretty big. It looks like a gator and not a saltwater crocodile. Gators are not aggressive towards humans but they've been known to nibble on a dog.
There was an alligator spotted off a Jacksonville beach just a few days ago, so there is certainly something strange going on.
As a resident of this area, it is common to see iguanas, ducks, parakeets, woodpeckers, crackheads, reprobates, lawyers,  yuppies, models, ballers, bikers, yogis, and the homeless, but not alligators.
Throughout the day, locals whispered about the gator. Some came to give him a name, calling him Eddie. We don't know how Eddie the Edgewater Alligator made his way to the Bay, but we're glad he went home.

THAT'S ALL FOLKS!!