Editor's note: Janet Slom commissioned Elisa Turner to write this essay for a forthcoming catalogue.
"I am on a journey every time I am in front of a canvas or a blank piece of paper. One mark leads to another," Janet Slom tells me.
It is a cool morning in autumn 2021. We are sitting in her art-filled Miami apartment and studio. Surrounding us are many canvases and works on paper that testify to her prolific capacity to make one artistic mark after another, leading viewers into compelling imagery.  A miniature vase with a single white lily graces a small table. Outside, the sun gleams on palm and Royal Poinciana trees. The torturous heat and torrential rains of Miami's everlasting summer have finally subsided.
At this moment, in this corner of South Florida, the fatal and swift scourge of the coronavirus stalking the world for months has been mitigated substantially by the arrival of vaccines. But the confounding legacy of those terrible months darkened by isolation, fear and loss remains. It is a furtive stain haunting the present. Slom joins a vast chorus of artistic voices around the world compelled to produce new works as the global pandemic began its lethal course in 2020. Their creative production is shaped by grief but affirms the art of resilience.
Primarily composed of art Slom created during the pandemic, "Trilogy: Part 1" at THE GARAGE@caroljazzar is her first solo show in Miami. It brings together mixed media works on paper and canvas, as well as scrolls created primarily with graphite, ink, and acrylic on Mylar. The unfolding imagery in scrolls particularly resonates for her because, she says, with scrolls "the beginning becomes the end, and then it begins again." For her, a scroll is not fixed or static like a painting on the wall; it can signify a dream state of possibilities.
As we settle into our conversation that morning, she hands me a carefully conserved front page from the Sunday New York Times, dated February 21, 2021. Running down the middle of the page is an arresting, scroll-shaped graphic titled "The Toll: America Approaches Half a Million Covid Deaths." It's a poetic, abstract signifier of surging torrents of grief and loss. It's an accumulation of nearly 500,000 tiny black dots. Each dot represents a death in the United States caused by the corona virus. At the top edge of the graphic, dots are scattered in gray smudges. Descending lower in this graphic they coalesce into thickening smears of black ink.
"This is the simplest rendition to show the enormity of this moment, of what we're going through," she says of Times graphic. "Our lives are unfolding moment to moment."
Reflecting on how the pandemic has shaped her artistic process, Slom says that her daily practice of meditating, journaling and drawing became more intense, more focused during the isolation of those long lockdown months. She wanted to capture a heightened awareness of the immediacy and fragility of life, the precious and ephemeral nature of each moment.
Like many during the pandemic, she found renewed sustenance in the natural world. There were frequent walks in wooded areas like Matheson Hammock Park near her home. These walks helped her become "fully present" in nature, she says, able to see with stunning clarity various shades of green leaves as they caught dappling patterns of sunlight. She remembers being more attuned to rhythms of birdsong.
Slom's sensitivity to the natural landscape surely owes much to a childhood growing up on a flower farm in the 1950s in Rivonia, South Africa. It was a landscape filled with the luscious colors of carnations and gladioli. From the age of four, she recalls meditating with her father.  "We would sit on the veranda and he would say, 'Now we are going to close our eyes. We're just going to listen to the rustling of the leaves in the wind. And we would do that for 20 minutes or half an hour."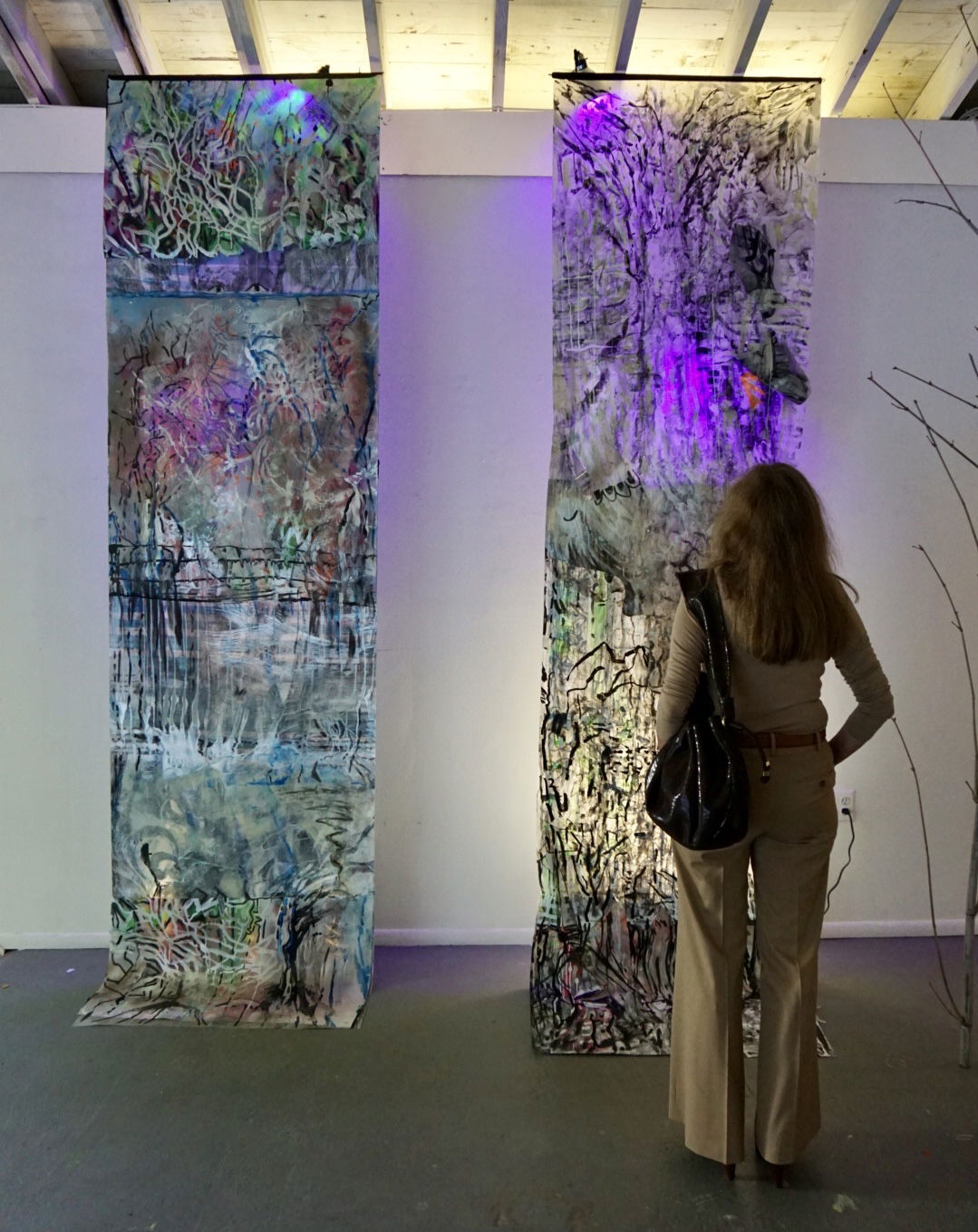 For "Trilogy: Part 1," the natural world is rendered with vibrant essence in three 2020 works on paper from her "Enchanted Forest" series. This spirited cascade of mark-making unleashes a mutating space of landscape and figuration commingling with abstraction. It is heightened with bursts of Fauvist color. Recurring shapes, evoking masked heads and beings stripped to a skeletal essence, conjure a place that seems more wilderness than forest. It flirts close to a restless fever dream. This series is adamantly resistant to pretty myth-making.
In "Enchanted Forest II," a barely outlined and over-sized rooster seems to thrash its radiant orange plumage directly above a miniscule allée of trees crowned with blobs of lapis lazuli blue receding into shallow space.  It's a bizarre juxtaposition of perspective adding to the sensation of a disrupted world in the throes of vast change. Elsewhere blood-colored, open-mouthed profiles lead the eye among organic, leafy green and blue-shadowed shapes. These organic strokes of blue and green appear to offer a refuge of cooling shade against a background convulsing with hot orange and fuchsia hues.
In these works on paper, the surface of shifting spatial perspective layered with color and fine lines speaks to a technique Slom refined during lockdown. It incorporates the digital manipulation of work that begins with a drawing on paper. That drawing is then scanned and transferred to her computer and enhanced in various ways. She prints out the enhanced drawing, adding more paint and other materials.
During a period in time when it was not always possible to get most art supplies, she was especially drawn to using organic materials like turmeric and tea. Often in her practice she dispenses with brushes and applies paint and other media with her fingers.
The fevered dynamic of this latest series on paper stands in marked contrast to Slom's "Heaven on Earth" series, begun in 2000. These are abstracted seascapes exploring the illusory space where sea and sky often melt into gauzy passages of opalescent colors. The space appears infinitely expansive. It is an "invitation," she says, "to be still and stop for a moment," to let the mind wander into a realm of infinite possibilities.
From the "Heaven on Earth" series, her painting "Dusk" from 2020 is a vision replete with fairly ominous tones, no doubt witnessing despairing days of the early pandemic. It is punctuated with dark vertical drips slicing through aqueous layers of earthy shades of gray, sage-green, and brown. High above the barest suggestion of a horizon is a curving line of small splotches of color that may evoke a line of birds descending to a nocturnal roost.
At the center is a faint veil of grayish white, marking the absence of a clearly defined source of light. It glimmers with the slight memory of another passing day. It hollows out an unassuming space redolent with the promise that dusky shadows may lead to future moments in the sun.
Two new scrolls demonstrate her deep commitment to transforming inspiration from the natural world.
In "Tree Spirit," Slom found particular inspiration from a photograph of a Black childhood friend, Silvia, whose family worked on her father's farm in South Africa. She recalls her shocked surprise when she learned at age five they could not attend the same school. Increasingly uncomfortable with the policy of apartheid, in 1978 Slom emigrated with her family to the United States. Memories of life in a country built upon the government-sanctioned racial injustice of apartheid trouble her still, perhaps all the more as it echoes racial inequities exposed by the pandemic in 2020.
The somber, dark-skinned face of the central figure of "Tree Spirit" appears to float just barely above a blue seascape interlaced with organic shapes resembling sea grasses and mangrove roots. Reaching upward and sideways from the figure's head are curving, linear forms that once again recall the mangrove roots so prevalent and protective of the endangered terrain where land meets water on Miami's Biscayne Bay. With its delicate sense of line and diaphanous, watery color, this scroll becomes an affecting story of persistence and vulnerability.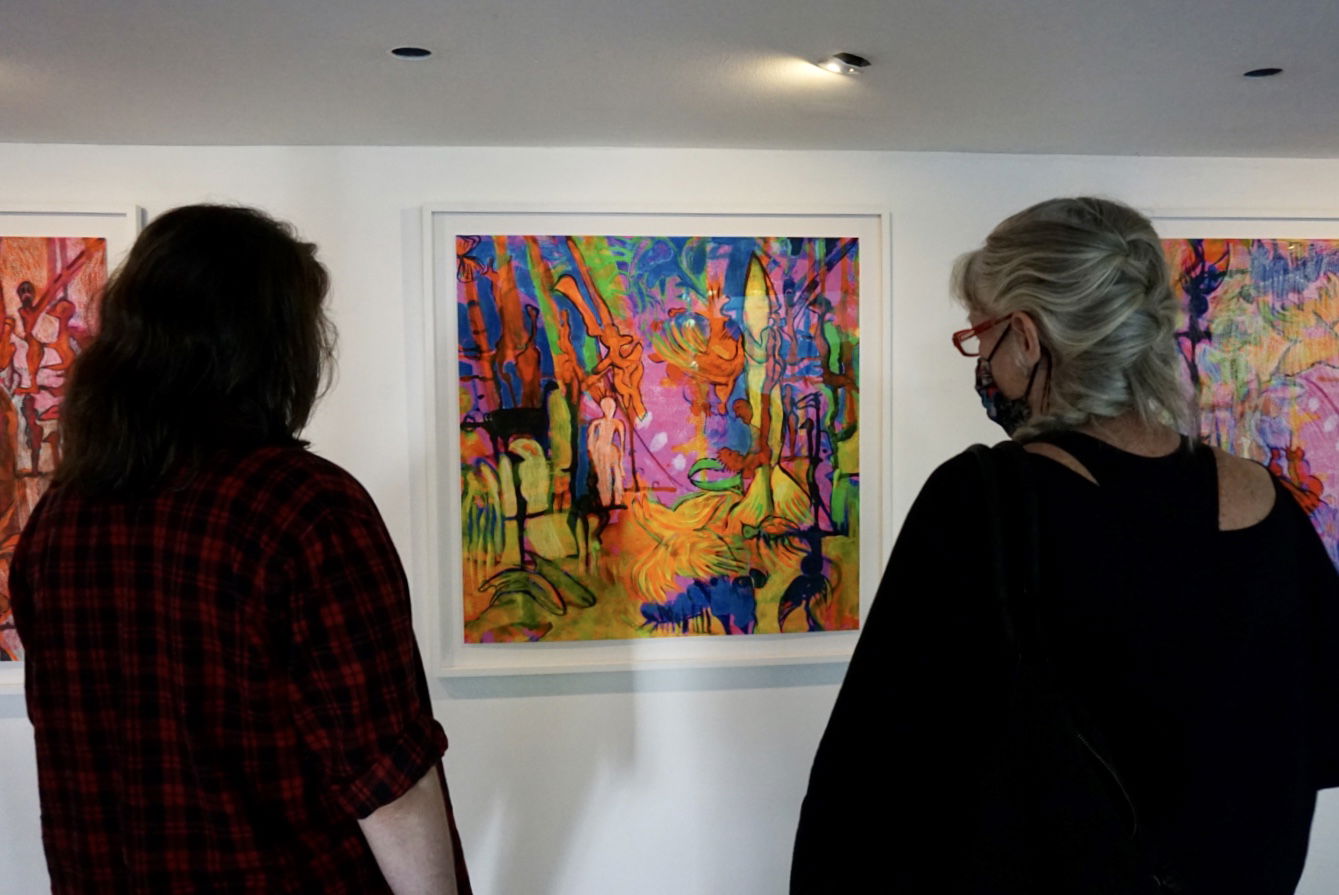 "Baobab" is another recent scroll Slom created for "Trilogy: Part 1."  Significantly, the native African baobab tree, which can live for some 1,000 years and is distinctive for its vast trunk, has been called "the tree of life" because it is a vital source of food and shelter. Baobab trees can also be found in the rich biodiversity of Miami's landscape, which exerts a subtle presence in her art.
In Slom's scroll "Baobab," the complex texture carries the scars of Slom having ripped and slashed the surface, surely to reflect recent times of severe loss and disruption. As a viewer contemplates its unrolled surface, the eye travels up and down among layered intersections of lines echoing tiny veins for transporting sustenance throughout bodily or botanic life forms. Some of the slashes become "pockets" for slightly rolled fragments of abstract drawings she has inserted into folds created by the sliced passages, ultimately evoking a tree trunk sprouting new growth.
According to a November 3, 2021, article by Brooke Jarvis in The New York Times Magazine, during the pandemic many people throughout the world reported strange, disturbing dreams. Like them, Slom recalls experiencing a vivid, recurring dream. It was the sensation of being surrounded and weighted down by mud.
"I was shocked by the heaviness," she says. "Because in mud you try and move but it's like you've got to lift pounds of mud before any action can happen."
"What is the message in the mud?" she asks. Reflecting her faith in the natural world as a place to journey towards spiritual beauty, she says, "In the mud, as we see everywhere, there is a new fruition, a new blossoming. And sometimes beauty is an opportunity for something to change.
Photo Credits: Elisa Turner and Madelyn Brown
IF YOU GO:
"Trilogy: Part 1" by Janet Slom
Through December 2021
The GARAGE@caroljazzar, 158 NW 91st Street, El Portal
Open Sundays 1-4 pm or by appointment
Call  917-846-7827 or email janetslom@gmail.com