Jitney Books is publishing three new novels by  Miami authors.
The South Florida based publisher has now released thirteen books by nine different local authors. All books also feature handsome covers created by South Florida artists.
We're proud to introduce you to our 2021 new releases.
We meet Benny Taggart when his anger erupts as a student in a middle school just outside of Buffalo, New York. His explosive reactions to bullying and brutality propel him through the portal of a failing juvenile 'justice' system. Here Benny perfects his "bad" persona, masking insecurities which are only compounded by a devastating tragedy. Thrust toward adulthood with a few missing pieces, we follow 'Bad' Benny on an odyssey to find a father he never met, following clues he may have imagined, all of which point toward Miami.
Benny Taggart becomes Huck Finn and Holden Caulfield seen through Alice's looking glass. This late 20th century American coming-of-age journey is far from a straight path. Faced with larger-than-life danger and confronted by mysterious folk he never could have imagined, Benny wrestles his way toward whatever adulthood may bring. Filled with a cast of unique American characters, The True Tales of Bad Benny Taggart is a fast-paced journey from betrayal through violence and danger…toward an unknown future.
Featuring cover art by Jayda Knight.
The definitive novel chronicling the culture of music festivals. First published in 2011, it features a diverse cast of rebellious American characters from New York, San Francisco, and Miami. The book follows their journey across the country to Chicago for Oracledang! It's the biggest and baddest festival of the summer. Once there, paths converge for an event none of the characters will soon forget and a concert only a few will get to see.
Headz the Trilogy is a countercultural gem appealing to anyone who has been to a festival. Whether Woodstock, Bonnaroo, Ultra, Burning Man, Rolling Loud, Grateful Dead or Phish, Coachella or Lollapoalloza — you will enjoy this wild, timeless ride.
Set Break is a new novella featuring dozens of first-person anecdotes, vignettes, and bonus scenes. It profiles most of the characters from Headz. In some instances, it serves as a prequel to the events and timeline of the original novel. In other cases, it adds nuance and context to the real-time events of the novel. It is a delightful, animated respite and deeper dive into the universe. Encore is a new novella taking place directly after the events of Headz. It is a sequel to the original novel set at different music festivals across the country. It features fifty first person anecdotes and scenes from several characters, both continuing the saga while being a stand-alone novella. Like any good concert, a solid is the perfect ending to any memorable show.
Featuring cover art by Martin Sinclair.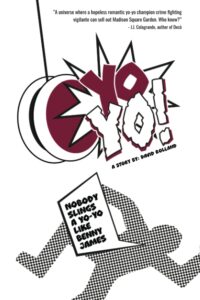 Nobody slings a yo-yo like Benny James. Behind the back, through the air, between his legs, suspended at a hundred and twenty-degree angle, he's sold out arenas nationwide wowing and kapowing audiences with his yo-yo. But still there's a hole in Benny's heart.
He just can't get over the girl who got away.
And no amount of fame, fortune or after-hours masked crime-fighting will ease that pain. But as Benny navigates his weird world he learns life really can be like a yo-yo. Sometimes it's up, sometimes it's down, and sometimes it smacks you right in the face.
Featuring cover art by Marlene Lopez.