The master of dub, Mr Lee Scratch Perry, performs a few more shows in Florida before jet setting his unrivaled talents off to another lucky international audience, who will have the pleasure of seeing one of his unforgettable live shows.
These photos were taken by me in Sydney, Australia in 2016, in Lee's hotel room, where I'd previously organized a visit to take a few photos. I'd bought him a box of cherries as a gift to eat, but also to possibly use in our shoot.  The red color was going to be a great match for his red hair and beard. I also took a selection of red and pink flowers and a few other accessories, including a miniature disco mirror ball, all of which we ended up using in one photograph or another. Lee was up for anything! There were some bananas in the fruit bowl in the room and Lee wore them on his head like a crown and encouraged me to come and take his photograph in the bathroom mirror, He thought it'd make a cool shot with me in the reflection, taking the photograph.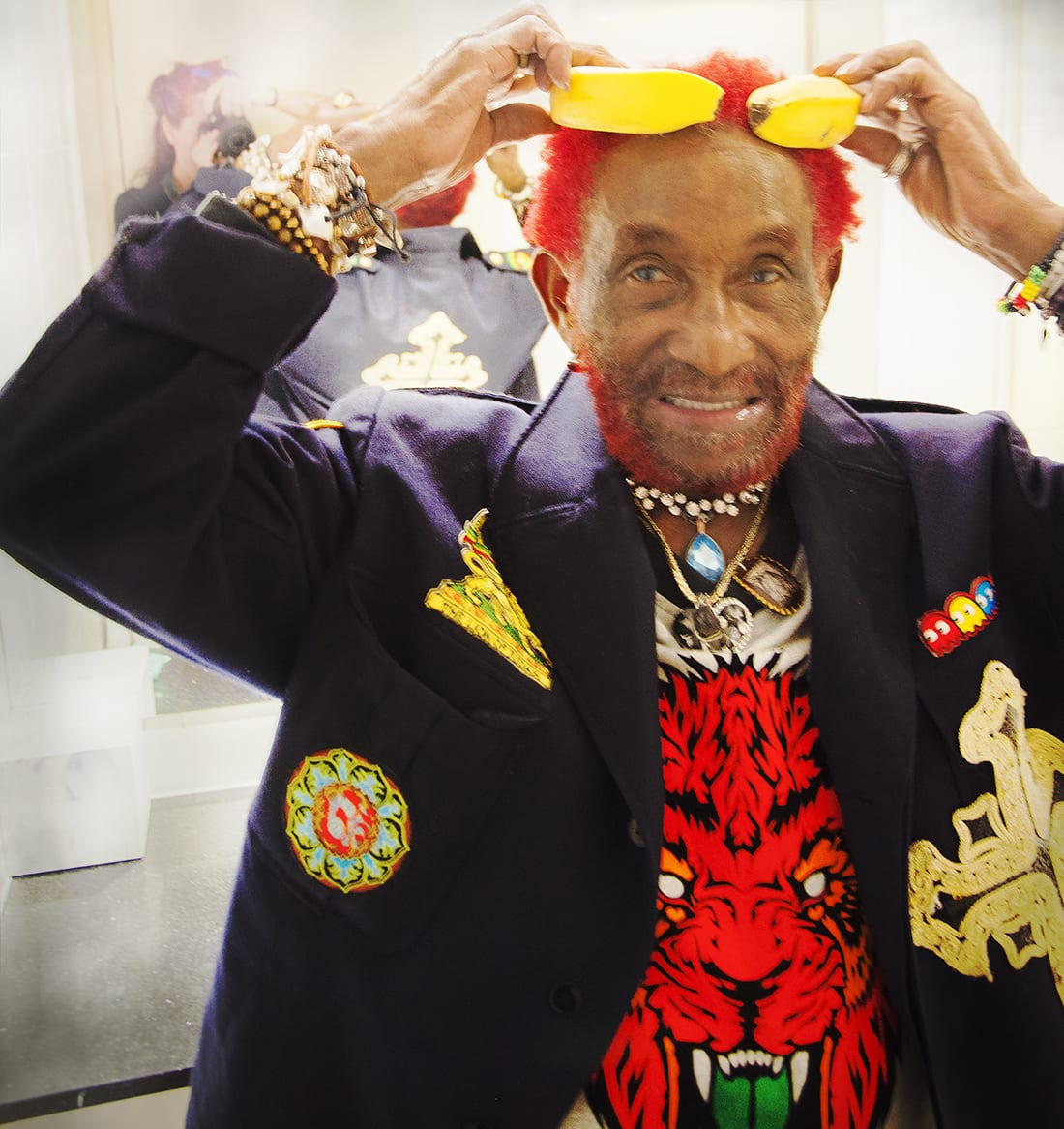 Lee was in the running that year to be the ambassador for Lindt Chocolates in Switzerland, where Lee lives half of the year. We did a series of fun shots with some Lindor chocolates, which ended up being some of the sweetest shots we took.
Mr Perry's touring schedule would leave most other artists exhausted, but he seems to have an endless supply of energy, just like his lyrics and riddims. On March 18, he'll perform in Paris, followed by a tour of the UK which ends on April 4. At the end of May, Lee will perform exclusive shows in Ireland and Scotland, and in June, he is Grace Jones' special guest artist at Southbank's Meltdown Festival in London. Lee is rumored to be heading back Down Under later this year. We are hoping this rumor is true! If we can, we'll be there, with a box of cherries, or some other red, delicious, healthy, Australian fruit.
Do not miss your chance to see The dubmaster in Fort Lauderdale's Culture Room on February 15!