Dan and David Le Batard are unabashedly proud to be from Miami. Their separate success paths have become an example of what is good about this city, but they've been too busy to notice. If you don't know who they are, you do. Perhaps you have driven past one of David's (known as "LEBO") murals, like the one that welcomes you into one part of Miami Beach or the cruise ship mermaid that welcomes you to another. Or perhaps you flipped through ESPN only to see a bearded man in a blazer checking his phone while his father ranted about how he hates Lebron James in a cartoonishly adorable Cuban accent.
That would be Dan and his father Gonzalo "Papi" Le Batard.
Dan and David's love for Miami is only eclipsed by their love of family, and each other. On December 15 they want to give back, as MAS Miami (Music, Art, Sports) happens at Wynwood Yard. For more info on MAS Miami click here.
These very private public figures want to show what is good in Miami and have fun in the process, having a party to celebrate their creative South Florida roots in a creative South Florida way. Dan put it this way, "My brother and I have been overwhelmed by how South Florida has supported our creative career choices. So we want to say thank you by throwing a party and returning the favor by supporting the artists and musicians from this area. My parents are exiles who came to this country to get us freedoms of all kinds, freedom of expression, freedom to create, and we want to share that and celebrate it with other creators."
The brothers first did MAS Miami in March in Miami at Blackbird Ordinary, transforming the venue into a celebration of all things Miami. It exposed people to bands and artists that they didn't know were right under their noses. People that came just to see some of the personalities from Dan's shows danced as Miami's Roosevelt Collier took them closer to the Lord than even the mighty ESPN is able to take you.
All the while, live art was being created on stage by local artists to be auctioned to charity at the end of the band's sets. And long time Miami Herald sports columnist Greg Cote, a co-host on Dan's popular national radio show, posed for pictures when he wasn't appreciating all the bands and art that his city championed. It seemed he was catching up on what he had missed all this time as he penned the angst of Dolphin fans who's aqua blues somehow still find reason to hope.
It was a classic night. This MAS Miami looks even better.
LEBO's path to artistic success might come across as gleeful and carefree as his left hand portrays on canvas' and walls all over Miami. However, his grassroots perseverance and relentless work ethic expanded outside conventional Miami art circles.  Collaborating with bands such as The SPAM Allstars at 8th street haunts such as Hoy Como Ayer and putting on his own event with his favorite local bands transcended his joyful style into culture.
Andrew Yeomanson, SPAM's founder and band leader recalled way back, "Dave and I met in 1999. We used to have jam sessions in my tiny apartment with one or two musicians. He would bring a sketchbook and draw from the sounds we made. He created the artwork for three of our albums. During our nightclub performances Dave would use an overhead projector to draw while we performed. It's always been great working with my friend, Lebo."
What really helped differentiate LEBO from other artists associated with well known bands was that they let him in, even Miami royalty Gloria Estefan, whose recent album cover LEBO designed. They let him in because he cared. His artist's perception and unapologetic business sense became a recipe to being true to his heart and understanding value simultaneously. That is a combination that artists of his caliber not only struggle with, but sometimes fail to exploit for reasons that range from laziness to self perceived commercialism. LEBO's recognition and focus to remain honest to his art and ability to creatively evolve has made him a unicorn of artists.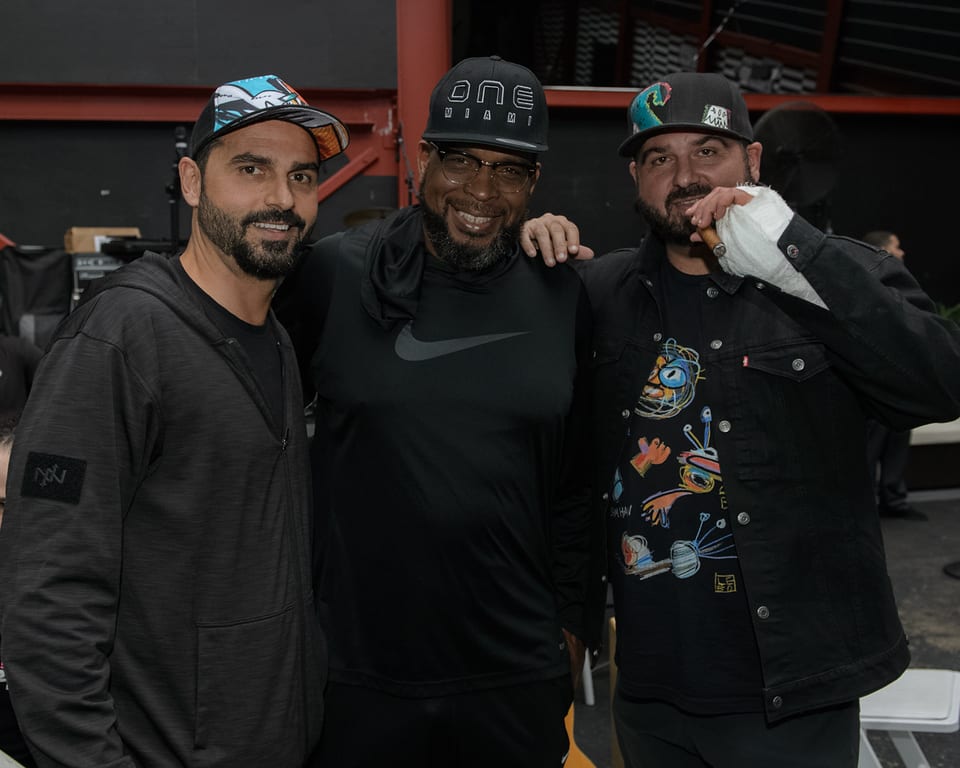 Dan Le Batard was a journalism major at The University of Miami during their football program's heyday as arguably the most feared college football program ever. They were interesting, scary, and proud of it. The entire country seemed to hate them and Miami adored them. Dan had access to the players and faculty during that controversial time that catapulted him to a job as a sports writer at the Miami Herald long before dawning the mortarboard hat and gown. He got paid to turn pro before graduating, and parlayed that into multiple national platforms where he could rail against college athletes not being allowed to get paid before they turned pro. He fell into radio because of his ability not only to acknowledge the topics that were unspoken, but mock the entities that purveyed in it in a comedic way that formed a new genre of unserious yet self-aware sports radio. The addition of his father's personality was very Miami-specific, yet somehow relatable regardless to culture. That dynamic previously didn't have a media voice and became an extremely popular entity, even loved by people who wouldn't know a Cuban Sandwich from a Happy Meal.
Now at the precipice of both their careers they feel the need to expose their diverse brethren to the only city that was able to not only embrace their exiled parents but nurture their creative dreams.
MAS Miami Vol. 3 is unique in that it's a birthday celebration for Dan.
At Wynwood Yard they have opening act Sol + The Tribu. This unique Miami sound is a blend of Electronic music with Afro-Cuban rhythms, Cumbia, Reggaeton, Funk, Blues and Hip hop.  As a reflection of the place where they create, they sing in Spanglish, taking their influences from Benny More, Orishas, Fugees, Outkast and Celia Cruz creating a rhythmic landscape that blends the traditions and cultures around them.s.
Magic City Hippies have ascended quickly and are one of Miami's best and hardworking touring bands. Jacuzzi Boys define a badass Miami based garage rock band that has toured the US and Europe while continuing to grow as a premiere band in national conversations.
Spam All-Stars, a United States nine-piece hip hop, Latin, funk, & electronica band will be headlining.
Celebrity appearances by guest and friends of the show should prove entertaining as well. ESPN personality Marty Smith will be bringing the Marty Party. While show producer Mike Ryan will be making his DJ debut.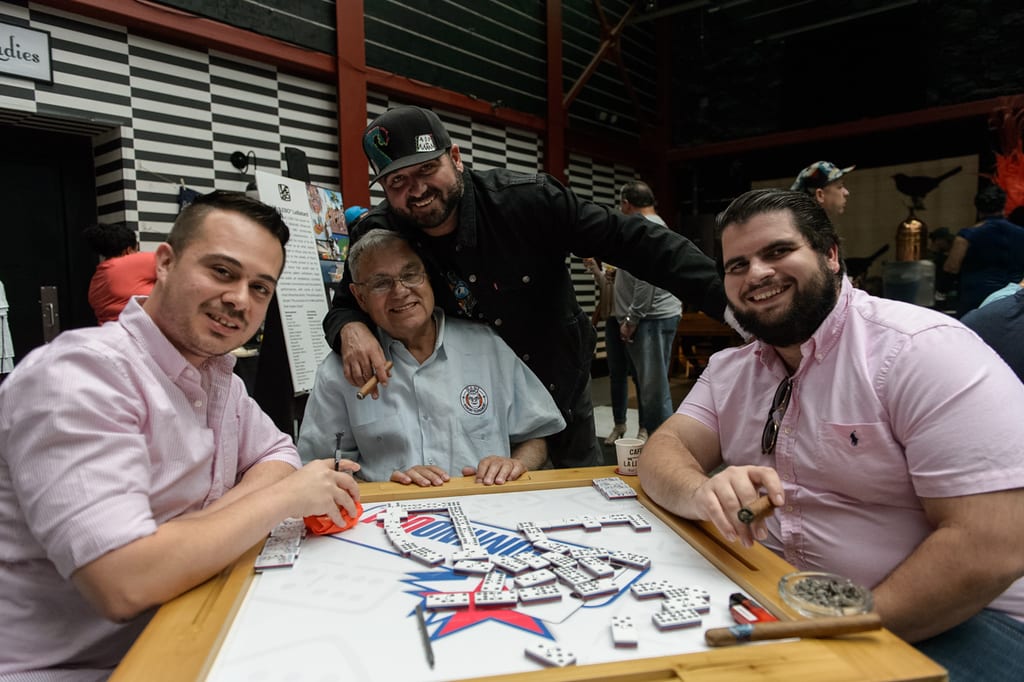 All in all, the Le Batard brothers have spared no expense in all facets making this event as entertaining as possible. Whether you appreciate LEBO's art, follow Dan's show, dig the bands or just want to have a good time; MAS Miami should be interesting and heartfelt at the very least.
Look, Miami gets a lot of shit for for a lot of things and deservedly so. Shady promoters and real life zombies are a reality here. The city was literally built on blood and drug money. So when two sons of Cuban exiles do things right and want to throw you a party, it's time to put your pants on and enjoy.
For more info on MAS Miami and to scoop up tickets click here.
Photos by Jason Koerner.