For the second year in a row there was no big traditional official fireworks show in Miami Beach. Last year in 2020 it was because they didn't want crowds of people spreading COVID. This year in 2021 they didn't want to seem callous. After all only a few miles away over 100 dead bodies were buried in the rubble of a collapsed building and first responders were risking their lives to recover them.
Instead as a sign of empathy and solidarity to the victims and survivors, people were asked at 9 pm on the fourth of July to light a candle and hold it to the sky.
But at the last moment there was to be a massive explosion on the beach on the fourth of July.  At 10:30 the standing portion of The Champlain Towers South was brought down. The survivors had the dichotomy of  counting their blessings that they were alive to watch all their belongings go down in a cloud of smoke.
The Surfside demolition —from our living room. It's a sad day. #Surfsidedemolition #Surfside pic.twitter.com/XA5DaiOUMJ

— Darrell Arnold (@DarrellPArnold) July 5, 2021
South Beach is only a little more than seven miles from the Surfside tragedy.
But I guess it's part of the human condition to easily forget about the bad things other people are suffering through.  Tourists and residents can easily go about their days bodysurfing in the waves or drinking a few too many mimosas at brunch. It's so easy to be oblivious to what the less fortunate are going through. Hell, we often have to step over homeless people to make our way to the beach.
But the other day half a block from Lincoln Road, I saw the below sign. There might in fact be further consequences to the Surfside tragedy.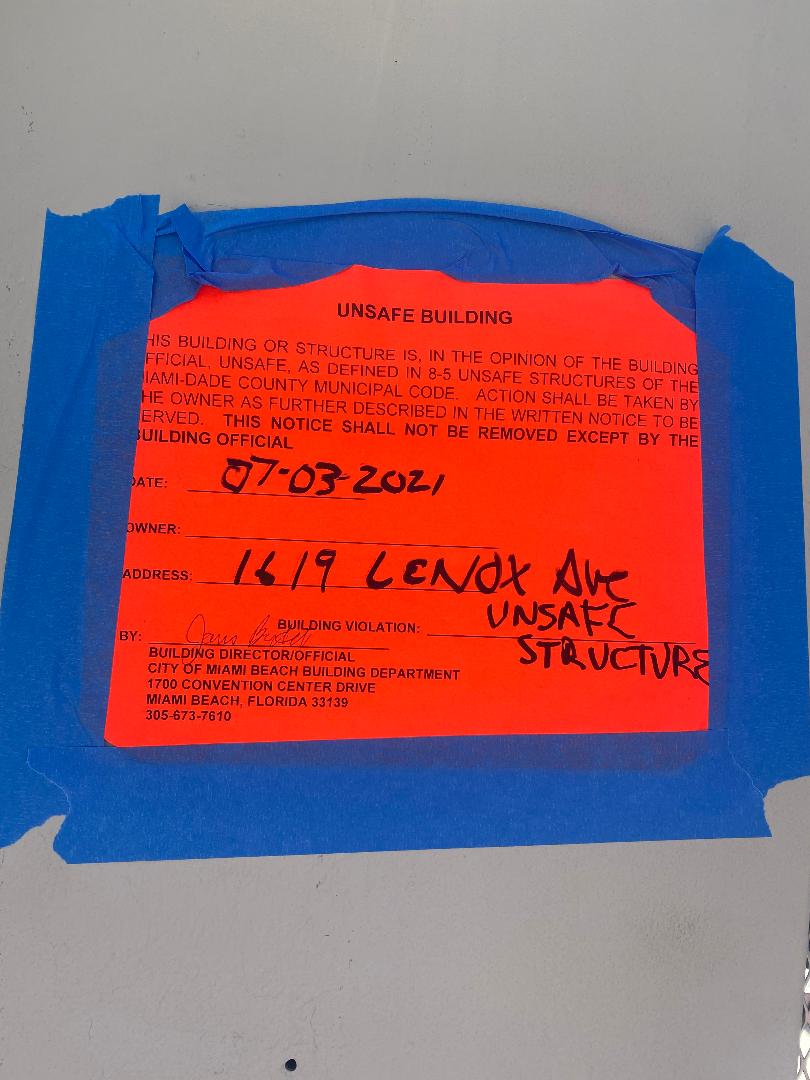 The building's residents at 1609 Lenox Avenue were forced to evacuate because the building was deemed unsafe. A day earlier 300 residents had to evacuate the Crestview Towers Condominium in North Miami Beach because that building  was also deemed unsafe.
Who else among us live in unsafe structures?
We will soon find out.