Those with a creative enough eye can probably find art anywhere. Especially in a unique mass of urban dwelling like Miami Beach where every  street sign has a cleverly worded bumper sticker splayed across it and every third tree holds a Santeria shrine.
Still Art Basel or Miami Art Week or whatever you call the time in December when all the New York fashionistas prey upon our island has its charms.  During the past week you couldn't walk too far without stumbling upon some sort of activation or installation or what the grade school set call art.
In the Miami Beach Convention Center was the official Art Basel. You either had to pay a hefty $65  admission fee or get on the right list to enter, but there was still plenty on view around Miami Beach for those without disposable income or Illuminati connections.
On Lincoln Road stood 14 massive bronze sculptures by the  Colombian artist Fernando Botero. They mostly depicted impossibly buff and curvaceous people posing or intertwined with animals. They have a cartoonish vibe that seemed to attract children who were often climbing on the unrailed art.
If you kept walking the promenade past Washington and Collins all the way to the beach you could encounter  "Order of Importance". Created by Leandro Erlich it's a traffic jam of cars that seem to be made of sand.
If you continued south from the sand cars along the boardwalk or on the actual beach you would eventually come to the monster Bedouin tents selling canvases and sculptures under the names of Scope and Untitled. Entry into these behemoths  required cover charges to see both the sublime and the offensive. But probably the most breathtaking work of art was the view they had of the ocean. Which of course was also visible directly outside the tents.
Inside the tents was the hustle and bustle of a hauty tauty flea market. If you're a provocateur or a performance artist of any type it could be fun to pretend to be an interested buyer. Your mind will be blown by some of the prices. If you wish to live a life of wealth it might even get you to consider a career in the art world, one where a banana duct taped to a wall can supposedly be sold for $120,000.
Back on the beach where volleyball courts usually stood a woman roped over bystanders to check out a makeshift town. "It's completely free," she said, "Come check out our underwater homeowner association meeting. It should be interesting."
I meandered around the installation when I stumbled upon the below placard….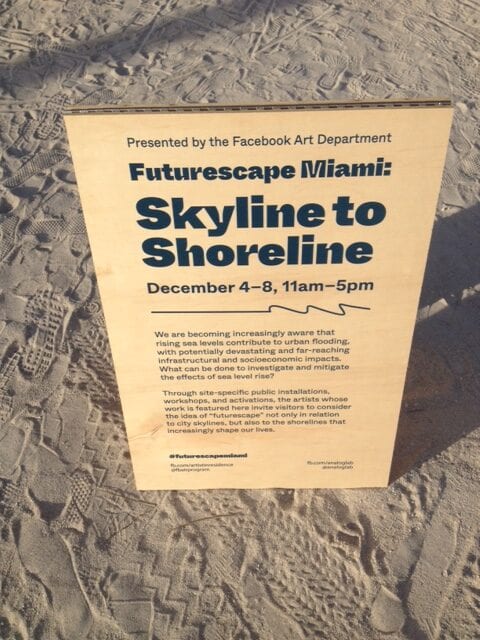 It was all presented by "Facebook Art Department". Knowing that Facebook was behind it gave the whole enterprise a sinister undertone.  Were these note cards to our future selves that were displayed prominently sincere letters of remorse meant to spring action on climate change or were they written by bots that were somehow manipulating us to vote for President Zuckerberg in the year 2024?
It represented the tricky back and forth on whether the grand spectacle of Art Basel is actually good for us. Is this a celebration of art or is it a grand festival that gives merchants another excuse to try to sell us things?
There's always been an icky connection between art and commerce. The Medicis were one percenter warmongers who also served as patrons for the greatest Renaissance masterpieces. Andy Warhol went from advertising to creating art criticizing advertising and then back to advertising again. The Wynwood Walls are now brought to you be a beer company.
Of course actually being a starving artist is a lot less glamorous than it sounds. Artists need to eat and they probably want iPhones as well. The bigger and more prominently the art is placed, the deeper the pockets are required to fund it.
Since the days of the caveman squiggling animals on the wall, the urge to create as a form of self-expression has been a part of the human condition. It's been that way since before Art Basel descended on Miami and will continue to be that way long after Miami is underwater.
Art is always everywhere. Sometimes you just have to look for it.